Have you been considering getting residential solar panels in Connecticut?
Now may be an excellent time to explore it since Connecticut is working tirelessly to become a zero-carbon power state by 2040. To stay ahead of the curve, you can start by learning more about solar power and having it installed in your home. Read on to discover why it's a good idea to make the switch now. 
The Fed Can Help with Residential Solar Panels
Although Connecticut's goals span the next 18 years, you may not have that long to benefit from the help that the Federal government can provide. Right now, the Fed is offering tax incentives to those considering making the switch to solar energy. Until the end of 2022, the Fed provides a 26 percent tax credit. However, in 2023 this percentage will be reduced to 22 percent, and by the end of 2023, the program may disappear entirely unless the Fed renews it. Instead of waiting to see what happens, it may be ideal for you to lock in the current savings, which will be at 26 percent until the end of this year. Keep in mind that this is a tax credit. Therefore, you won't get savings at the time of purchase. However, when it comes time for you to file your taxes for the year, you can benefit from the savings. 
According to Energysage.com, homeowners in Connecticut can expect to pay between $12,750 – $17,250. If you qualify for the federal tax credit, this range could be between $9,435 and $12,765. On average, your payback period, or the period it will take to break even from the initial investment in solar power, is about eight years. However, some homeowners may start to see a return on investment in as little as three years, depending on whether they qualify for the federal tax credit and many other criteria.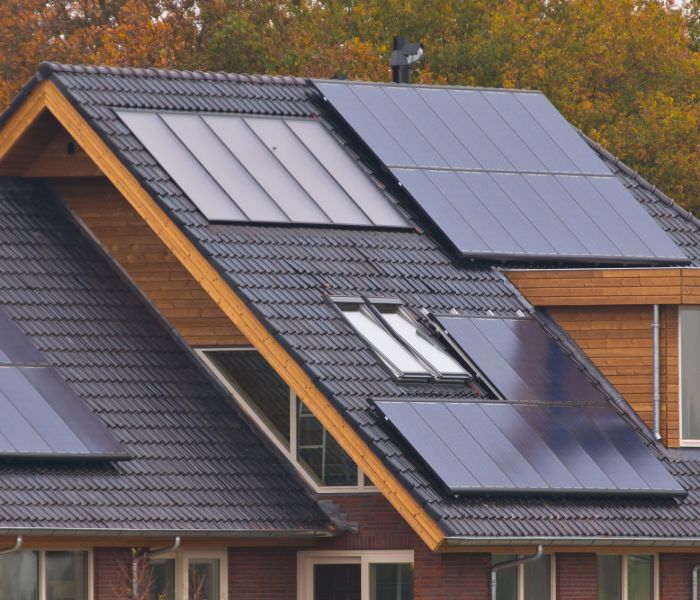 Connecticut State Can Also Help
To help realize their goal by 2040, Connecticut also encourages homeowners to switch by changing some of the rules to its current Residential Solar Investment Program. This is most apparent with net metering. If you are not familiar with net metering, it is the process by which you save money when using solar power in place of traditional electricity. When a solar power company installs your panels, the energy from the sun will go into your home as DC or direct current energy. You will have an inverter box installed in your home which will convert that energy into AC or alternating current power, allowing your appliances and technology to operate. The way net metering works is that your energy company will monitor your usage each month. Since you are connected to the grid, your home may use the grid sometimes at night or when it is cloudy outside. So, you may generate a bill. However, if you hardly use the grid and your solar power feeds energy back to the grid, you may have credits applied to your account. 
New Changes With The RSIP Program for Residential Solar
In the past, Connecticut utility companies had 12 month periods, and at the end of the period, you would have to sure up differences with the utility company. With the new changes, your credits will roll over indefinitely. Another significant change is that instead of seeing savings in the form of kilowatts, you will now be able to see it in terms of dollar amounts. Additionally, homeowners will be able to take advantage of the "Buy All Sell All" tariff which allows them to sell their solar power to utility companies at a fixed rate. One benefit is that it may provide more certainty than net metering, which may fluctuate from month-to-month. However, before deciding, it is a good idea to speak to your energy provider about the advantages and disadvantages. Another great incentive is that those in economically distressed communities will also receive higher payouts. 
The Fed and Connecticut are currently running some great incentives to encourage homeowners to switch from traditional power to solar power. However, these incentives won't be around for long. So, to reduce the amount of money spent out-of-pocket for solar power now is a good time to consider getting it. If you are looking for a reputable company to install a residential solar panel in your Connecticut home,  Home Solar CT can help! Our dedicated and highly skilled solar panel contractors work quickly to install your solar panels so that you can start benefiting from solar energy. Contact us today to schedule your consultation and get a FREE quote on solar panel installation. Not only will you lessen your carbon footprint, but you will also reap the benefits of energy savings over the long term.